"We are in business to send more business through your doors, more travelers to your travel destination, to generate more interest in your product, and to produce more profit to your bottom line! Our advertising services can expose your message to nearly 60 million travelers annually!"
Our High Exposure Advertising Services include:
Back-lit Advertising in 22 Washington Rest areas
Back-lit Advertising at the Bellingham Airport, Cruise Terminal, Amtrak/Bus terminal, and Private Airport
Back-lit Advertising at the Kelso Volcano Center and the Kelso/Longview Chamber
Brochure Distribution in 12 high traffic Washington Rest Areas
(Check out each of these services via the selection bar above.)
Your advertising really should be where your future customers are!
If you don't advertise a terrible thing happens!
.......................................................................NOTHING!
"STOREYCO also provides creative, turn-key advertising solutions from concept to installation. We custom design, produce, install and maintain advertising signs and sign structures to your satisfaction...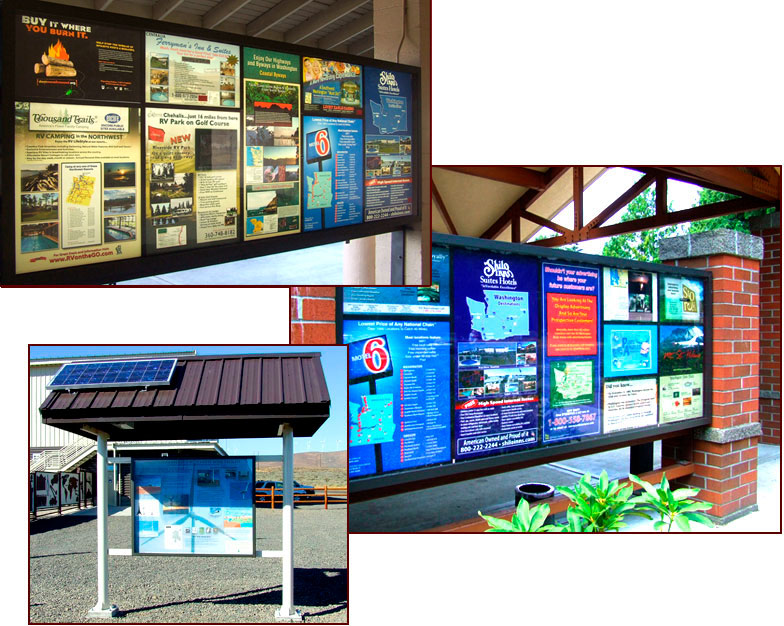 ************************************

"We consider STOREYCO's rest area services to be one of our most innovative means of advertising."

John Cronin | Marketing Manager
Angel Of The Winds Casino
(Customer employs back-lit displays, video, and brochure distribution in Washington Rest Areas)

***************

"We see people every day using the sign board and taking brochures. It's a great service and it gets used a lot."

J. - On-Site State Maintenance Person

***************

"I am constantly looking for cost effective targeted marketing solutions to reach my diverse customer base. I am grateful to Ron and his staff for their valuable service."

Charlie Comstock
Sales & Marketing Manager
Victoria Express

************************************
... STOREYCO has been in business since 1984.
We believe we have been successful because we strive to serve our customers the way we want to be served, and in all facets of our business we work hard to be easy to do business with. We have been a favorite and trusted source for promotional and advertising needs for numerous Northwest and California organizations."
************************************

"Storeyco has been especially easy to work with. They do what they say they will do. We can highly recommend this program and Storeyco as a business."

Heather Antanaitis
Membership & Marketing
Olympia-LaceyTumwater Visitor & Convention Bureau

***************

"It is very rewarding when we hear a customer say they first heard about our wine region by picking up a brochure at a rest stop. We'll have to print more brochures soon because of the success through StoreyCo – that's a great problem to have!"

Shannon Bird,
Executive Director
Rattlesnake Hills Wine Trail
509.965.4521

************************************